Bulk Cargo Shipping
GRAINS - OILS - TSP - GASOILS - FUEL - BITUME
Since the start, ALL SEAS SHIPPING became one of the Tunisian leaders in handling bulk ships and bulk cargo either liquid or solid.
We offer full agency service including Protecting agency, crew change, or Cash to Master in the most efficient way.
We have well-known valued customers, charterers, and owners such as CARGILL, COFCO, Dabinovic Monaco – CASILLO – Soufflet Negoce France – Ds Norden – Fairfield – Invivo France, etc…
Seamless Bulk Cargo Solutions: Experience Hassle-free Shipping with Our Breakbulk Expertise
As a breakbulk agent, we cover various fields such as marketing and promoting the regular services, identifying and contacting potential customers, tracking the cargoes and following their readiness at the port, loading supervising and port captain service, and call optimization for quick turnaround.
Thanks to about 20 years of experience with a well-trained team and to avoid unnecessary delay in berthing or discharging, we established sharp procedures regarding Documentation, Phyto-sanitary, daily reports to prevent shortage, permanent connection with P&I, etc.
We can solve complicated situations such as last-minute change disport, lightering due to restricted draft at discharging berth, fumigation expiry date or time, damaged cargo (wet, moisture), cargo refusal by receivers, etc.
We act as representatives near the "Office des Cereales" & Private buyers
We can assist grain and oilseed suppliers in all Tunisian Markets.
You can obtain our weekly line-up of bulk carriers in all Tunisian ports by sending your request to: shipping.assistant@allseasshipping.com
Any PDA can also be obtained by sending ships specifications to pda@allseasshipping.com
We'll be pleased to provide you with Draft restrictions for Tunisian ports – Merchant marine requirements – Available berths
The former tunisian flag M/V LADY FELL in the Netherlands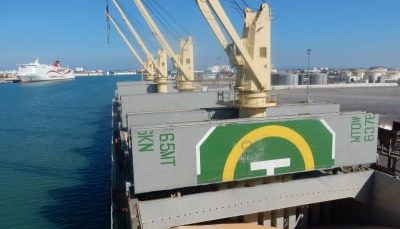 Grain discharging operations in Rades Multivrac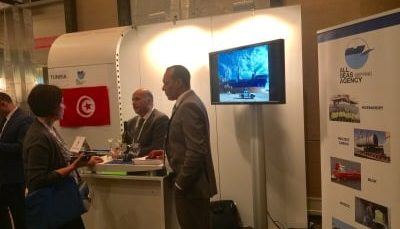 Our Stand and team with guests in ​​​​Global Grain 2016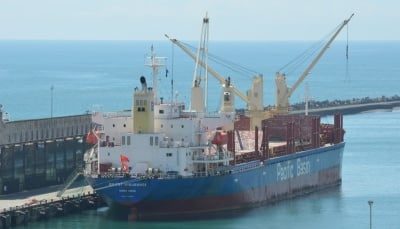 We act as protective agent with a valued added to the Owners to protect their interests